Is the whole greater than the sum of its parts?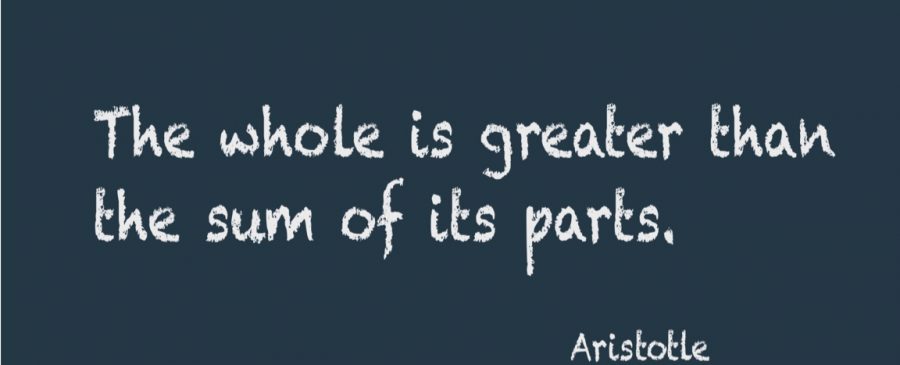 This past week I hosted an "Intensive" for my clients, the first live in-person gathering I've had since before the pandemic. My clients are all playing their Bigger Games, and striving to have their good work and services be seen, heard and purchased.
It's no accident that I call it an "intensive" and not a retreat. There can be no retreating when it comes to showing up with your brilliance, wisdom, philosophy and services.
The end result of our time together was a 3-day real time learning experience that went beyond my wildest imagination. I had created an experiential design with intentional outcomes, and yet one never knows when – or if – it will all come together. Well, it certainly came together.
It culminated in a 90-minute live YouTube TV show, The Better Life Show, on our final day together.
Each of my clients shared mic drop moments of wisdom, insights, life hacks and tips to support many aspects of what makes us all experience a better life, both personally and professionally.
After we wrapped our live show, a great Aristotle quote came to mind…
"The whole is greater than the sum of its parts."
I love phrases like this, yet what I love MOST, is when I EXPERIENCE phrases like this. That is indeed what happened. The show we did took on a life of its own. It was big. 28 guests. One host (Sandie Newton, a local Palm Springs TV personality), and one co-host (me). Sandie had never met me, or my clients. I wasn't sure how it would all go. And then moments before we went live I learned of some tech issues. UGH it was stressful, and yet we were scheduled to go live right at 11 am PT sharp.
I had to just let go and trust… and dare I say it was a homerun!
Where in your life do you need to let go of trying to control all the circumstances, and yet be intentional and responsible with all the "parts" and trust and empower that some bigger and better experience will come to be from it?
This quote from Aristotle has lasted a long time in our culture, so it must have some truth to it.
I'd love to hear your thoughts and experiences.
Blessings,
Rick