SPOTLIGHT: Are you ready for new passion and purpose?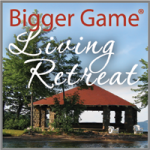 Hi friends,
The Bigger Game Living Retreat will take you out of your comfort zones, help you discover what you're "hungry" for, and compel you to create and Play Your Bigger Game. What could be more fun?!
This is our third annual retreat and we couldn't be more excited. And there is still time to join us!
Outcomes of the retreat include:
reveal yourself as a Bigger Game Player
learn the Bigger Game philosophy & methodology
develop a new relationship with passion, purpose, commitment & action
name a "working title" of your Bigger Game
create allies to keep you in action
The Bigger Game Living Retreat is held at the historic Silver Bay YMCA, a 700-acre campus nestled along the shores of Lake George in upstate New York. As added bonuses, you'll experience the brilliant Autumn leaves in all their glory, and enjoy intimate dinners, complete with a blazing fire, in a centuries-old wooden boat house.
Do you have that deep hungry feeling that you should be going something with your life that has more meaning?
Are you ready to express yourself in a more aligned and powerful way?
Or is it simply time for a change?
The Bigger Game Living Retreat will be the start of a bright new chapter in your life. Guaranteed.
More to come-
Rick