Here's what happened when I finally asked for help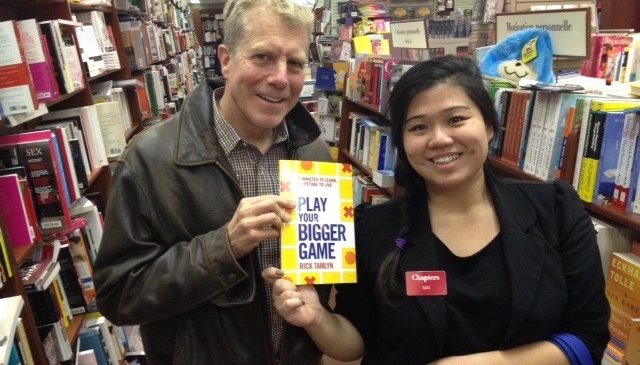 October 1, 2013 – was a red-letter day for me. Hay House published my book Play Your Bigger Game!
And to think it almost didn't happen.
I had convinced myself that I would never have a book published with a major publishing house. I didn't understand the process and the whole idea was overwhelming. I would visit Amazon and see literally thousands of self-help related books. I thought, "Who in the world would want to read mybook?"
I created a story that I didn't have a book in me: "I'm much more comfortable speaking than I am writing. What publisher would want my book?" I stayed with that self-limiting story for a long time, even though friends and allies encouraged me to create an inspirational guide for playing your Bigger Game.
I love to inspire others and yet a few years ago I was afraid to ask for help and actually practice what I preach!
One day I finally reached out to Adora English, a friend and former television producer who now serves as a media-savvy consultant.
"I'm ready to take the Bigger Game to the world," I told her.
"I've been waiting years for this call," Adora said.
That one fateful phone call set everything in motion. Adora has proven to be the best ally possible. You see, it turns out that there are many people out there whose mission is to assist would-be authors in moving past the "would-be" stage.
Once I was clear and set the intention, things began to fall into place. First, someone to actually help me get my thoughts onto paper. Then a literary agent. Then Hay House. In a strange sort of way, it all came together quite nicely and easily. It flowed. Now, this was over a 2-year period, but nonetheless, magic seemed to happen all around me!
Looking back, that whole process taught me (finally!) that the fear of asking for help is really silly and self-defeating. We get so wrapped up in not wanting to look silly that we actually do something stupid – we give up.
In a blunt and honest assessment of myself, I'd have to ask how a guy who travels the world offering help to others could be afraid to ask for help.
The lesson here is to tell the truth to your allies even if you won't accept it for yourself. In my heart, I knew my book needed to be expressed; I was just too afraid to admit that I didn't know how to do it.
A huge part of playing your Bigger Game is accepting that you don't need the how; the game will take care of that.
Nothing breaks my heart more these days, as I get a bit older, than to see dreams die because we don't ask for help.
What are you not expressing that you are deeply compelled to create?
It is so time to BOLDLY ask for help to make it real.  Let me know what you're compelled to create (a.k.a. step #1 – share your idea with the world). Respond here.
More to come-
Rick