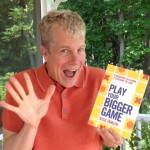 I'll be in LA on Thursday night to officially launch my new book Play Your Bigger Game! It's a party for sure, but more than that, I've created an evening that will be both fun and inspirational… one that will help point YOU in the direction of your bigger game.
If you are in LA, please join me at the NoHo Arts Center. We'll also be doing a live webcast, so regardless of where you are in the world, please join in on the fun! The party starts at 7:00 pm PST/10:00 pm EST… to watch online, simply visit www.ricktamlyn.com.
I hope to see you there! Click here to learn more!
Namaste-
Rick