When:
May 10, 2023 – May 12, 2023
all-day
2023-05-10T00:00:00+00:00
2023-05-13T00:00:00+00:00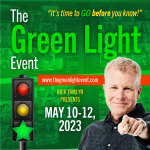 What if you could produce something of magnitude… that is of you? That serves notice to the world you're here to make a difference? That becomes the Bigger Game you yearn to play and the vehicle for your ultimate contribution?
Not sure what that looks like? Or even where to begin? Join Rick Tamlyn at his upcoming virtual event May 10-12.
If you already know Rick, you'll know that his event will not be your average on-the-edge of boring snoozer. You won't stare at endless power point decks and you won't sit there passively.
Instead, Rick is planning a 3-day live, full immersion transformational experience, designed to finally solve your success struggle.