When:
October 26, 2023 – October 27, 2023
all-day
2023-10-26T00:00:00+00:00
2023-10-28T00:00:00+00:00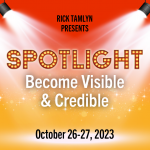 Step into the Spotlight and become a powerhouse of visibility and credibility in your field.
Join Dr. Rick Tamlyn for an electrifying – and fun – BRAND NEW virtual event that will transform your presence and skyrocket your reputation!
This 2-day event is designed to give heart-based entrepreneurs – and those that want to become one – the practical tools and knowledge needed to achieve success.
Whether you're just starting out or you're an experienced professional looking to take your career to the next level, this event is for you.
Get details and register here: www.spotlightwithrick.com