Jun
10
Thu
TRAINING: We Are Creative Geniuses (but we forget)
Jun 10 @ 2:00 pm – 3:00 pm
You are born as a master creative. Period. If you don't believe this, look around and notice all that has been created… by you individually and by the collective.
Unintentionally, we drift to managing what is, rather than creating what wants to be.
Come learn and experience this difference, which you can then apply to every aspect of your life. This paradigm shift will change everything if you choose it!
Jul
15
Thu
PRODUCE U Production Intensive

Private client training retreat.
Oct
6
Wed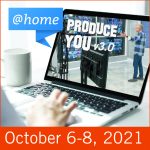 It's edutainment.
It's personal transformation.
It's a must attend event if you're ready to play bigger.
Join Hay House author Rick Tamlyn at Produce You: The Event!
Learn his It's All Made Up philosophy and start to think like an owner of your life.
Activate your entrepreneurial spirit and leave with insights and tools to support your own business growth.
Discover ways to take creative responsibility for your career… and your life!